Durable identification labels for plastic bins and other containers
Reliable container identification is often an industry issue because it influences overall performance and efficiency. It can be standard or RFID (Radio Frequency IDentification), find out how it can benefit your industry.
Identification labels for bins: what are the benefits?
The containers are mobile within and/or between companies. Likewise, their contents evolve over time. In this context, it is not always easy to know where a container is located or what is contained within.
Identification is often done with 1D code labels (barcodes) or 2D code labels (QRCodes, DataMatrix).
These visual representations are easy to be read but have the disadvantage of working through the visual field: impossible to read one of these codes if it is hidden or if the printing has suffered from the use of the bin.
The RFID solution overcomes this constraint and allows mass and remote reading, even for non visible or hidden items. The stored information is scalable and can be updated with each new status. As far as security is concerned, it is much more complicated to reproduce the data of a RFID tag than the one printed on a barcode.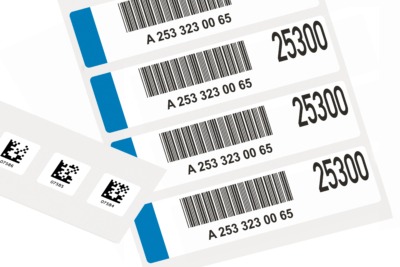 Datamatrix labels and barcode labels
Customized identification solutions: RFID tags and labels proposed by Etik Ouest
As a partner of manufacturers, logisticians, integrators, distributors and transporters for many years and as a RFID expert since 2005, we have developed standard and customized container identification solutions.
For example, we have been involved in the identification of auction bins and thus participate in the traceability of products in food, retail, automotive, health and electronics industries. The dual-frequency RFID tags combine NFC (Near Field Communication) and UHF (Ultra High Frequency) technologies. This combination of technologies allows both reading and writing in the near field and at a distance. The main results consist in an improvement of the traceability of the containers on the whole path of the container, the optimization of the existing process, the reduction of the losses and thefts of containers. These RFID tags are specifically designed to resist strong constraints (temperature variations, friction, shocks, vibrations, metallic environments, etc.).