Hobbies: RFID is coming to the ski resorts
Often used by manufacturers to track products and manage stocks, the RFID label is also used in the leisure sector. Thanks to RFID, there are no more queues or lost tickets!
In ski areas, it makes access to the ski lifts more fluid with hands-free access: the ski pass remains in your jacket, so you no longer need to sign in by hand.
Winter sports competitions are not left out: RFID is also used for timing events such as slalom, downhill, biathlon or bobsleigh. However, how does an RFID label work? What are the applications and benefits in mountains?
To begin with, RFID or radio frequency identification is a technology that is everywhere in our lives: whether within your public transport card, your parking pass, or more recently your contactless credit card payment and all phone wireless secure payment systems.
More precisely, RFID allows you to memorize, store, record and recover data remotely using radio waves. In effect, the label has a chip connected to an aerial. The chip contains the information and the aerial allows the exchange of data through RFID reader.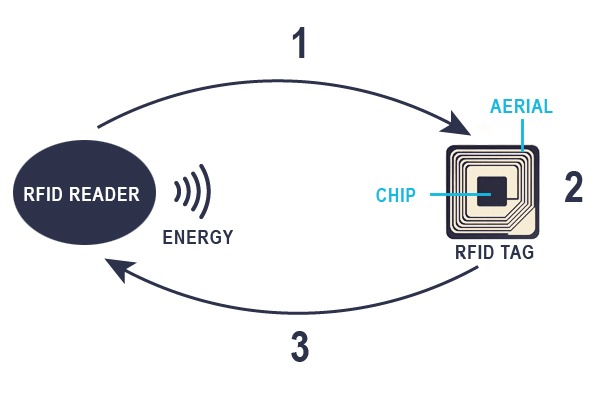 Blueprint of how RFID works
1/ The RFID reader emits a wave carrying a signal to the chip
2/ The aerial of the RFID label, in the field of the wave, picks up the signal and transmits it to the chip. The received wave charges energy to the chip, which is activated. It then sends the information back to the reader through the carrier wave.
3/ The reader receives information and interprets it.
For more details, you need to know that there are 3 types of large category of chip, which differ in frequency and reading distance. The higher the frequency is the greater the reading distance is:
125-134 kHz : Low frequency
13,56 MHz : High frequency
860-960 MHz : Very high frequency
The first category is the active chip. It has an on-board power source, such as a battery, which allows data to be transmitted. It has the advantage of a long range of up to 500m./span>
The second category is the passive chip. In contrast, it does not have an on-board power source. It communicates its information only with the reader from which it draws energy. The maximum range is up to 15m. This is typically the type of chip used in the (2D) label.
Finally, the semi-active chip is similar to the passive ones but has a battery to record the data.
Making the right choice is complicated for RFID novices. This is the reason why Etik Ouest, manufacturer of RFID tags and labels, can guide you to find the solution to your problem.
RFID label at the ski resort service
France has one of the largest ski areas in the world with 232 ski resorts spread over five areas. Open from October to May, the ski resorts offer quality services that are constantly improving. On the technology side, RFID is becoming more and more popular as it offers many advantages.
Today, RFID is used to control access to ski lifts. The way it works is simple: the reader on the gate automatically decodes what is programmed on the RFID pass and unlocks the turnstile if the information is considered valid. This happens instantly, even in negative temperatures as the frequencies are no temperature sensitive. The gantry reads the ski pass remotely through your jacket so there is no need to take it out, with your gloves on, to badge! RFID therefore allows skiers to save time by making their journey within the ski area more fluid.

RFID tags for ski equipment:
Etik Ouest offers RFID label to manage your equipment stock
In addition, RFID technology opens up new business opportunities. It is easy to imagine a loyalty programme at resort retailers linked to the RFID ski pass, a click&collect system for ski equipment or even ski lockers only controlled by RFID. Anything is possible!
Looking for an RFID ski pass supplier? You want to equip your rental equipment with an RFID solution?
Etik Ouest, RFID specialist, offers you reusable RFID ski passes, custom-made according to your specifications. In addition to saving time, RFID can allow you to track the flow of skiers on ski run and capture important data to improve services in the ski area. RFID tags can be either pre-encoded or encoded by the stations when the pass is handed over to the customer. As far as rental equipment is concerned, Etik Ouest offers RFID tags for logistics, which can be customised to suit your needs.

RFID labels for ski resorts:
Etik Ouest offers RFID labels for ski lifts as well as labels for the logistics of your ski rental shop.

RFID label for winter and mountain sports competition
Whether its biathlon, speed skating, ski jumping, slalom, trail running or cycling, the stopwatch is the only thing that matters. RFID timing allows athletes to be ranked in real time with a exactness of one thousandth, so that it has replaced manual timing in sports competitions.
This is how RFID timing works. Each athlete is equipped with an RFID chip, storing information about his identity, located either on his number, shoe or arm. The finish gate acts as a RFID reader and detects the RFID chip as the participant go through the line.

Are you an organiser of mountain sports events or a sports federation? Are you looking for RFID label for timing?
Etik Ouest offers RFID label for race numbers and shoes as well as timing wristbands. All our RFID tags and labels are robust, sweatproof, weatherproof and resistant to hard conditions. They are custom-made and allow you to manage your sports' competitions with peace of mind.
RFID a real opportunity in ski resorts
RFID is a technology that offers many advantages: speed, timesavings, accuracy and reliability. It offers an increased comfort for your customers and allows you to improve the services of your ski resort.
Etik Ouest is a French supplier of RFID tags and labels known for their knowledge and ability to accompany you in your RFID project. Contact us!