RFID (Radio Frequency Identification) is a technology that enables data to be stored and recovered
remotely on RFID tags, also known as radio labels.
RFID labels, Etik Ouest guide you in your project
RFID tags are electronic identification and traceability media. These intelligent labels can automatically manage a large amount of information, in real time and remotely. In this way, they enable you to increase productivity, simplify and make your inventories more reliable, manage your stocks efficently and secure your date.
Etik Ouest's RFID solutions are therefore fantastic growth drivers for your business.

ARE YOU LOOKING FOR A RELIABLE PARTNER TO DEVELOP YOUR RFID PROJECT?
ARE YOU AN INTEGRATOR OR A COMPANY?
Etik Ouest, known for their expertise, reliability and the quality of their RFID labels,
are the ideal partner to support you at every stage of your project.
Discover Etik Ouest company and different applications of RFID tags and labels.
RFID technology, operation
RFID or Radio Frequency Identification is a technology that uses radio waves to recover and store data.
The RFID label or tag is equipped with a chip linked to an antenna. hip stores the information and the antenna transmits it to the transceiver reader, which coordinates the RFID communication. The RFID reader converts the radio waves into data that can be interpreted by RFID software.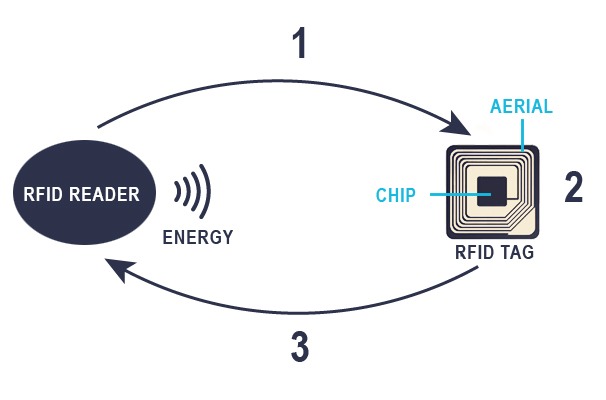 1/ The RFID reader emits a wave carrying a signal to the chip
2/ The aerial of the RFID label, in the field of the wave, picks up the signal and transmits it to the chip. The received wave charges energy to the chip, which is activated. It then sends the information back to the reader through the carrier wave.
3/ The reader receives information and interprets it.
RFID labels, different frequencies
There are several RFID tag frequencies for establishing communication between the chip and the antenna. The choice of frequency depends on the type of application and the performance required.
Here are the different frequencies available for RFID tags:
125-134 kHz : Low frequency
13,56 MHz : High frequency
860-960 MHz : Very high frequency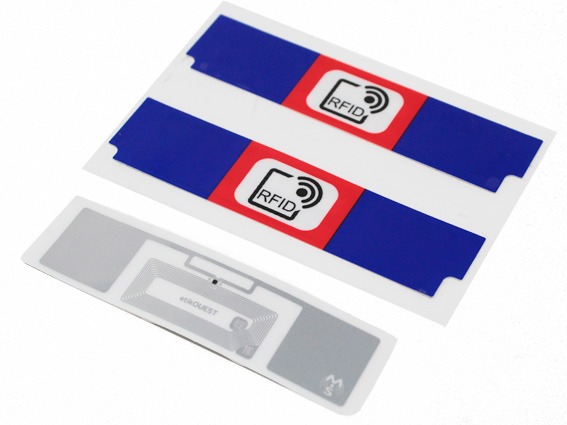 Passive RFID labels and active RFID labels
The passive RFID tag has no battery. Energy is supplied by magnetic or electromagnetic waves from the reader when the tag is read. This activates the chip, enabling data transfer. These RFID tags are generally produced in volume and are inexpensive.
The semi-passive RFID tag or semi-active RFID tag works like the passive tag at the communication level, but can modulate their response signal depending on the interrogation. However, some elements of the chip draw their energy from a battery, such as the microcontroller and the memory. This battery enables them to record data. For example, RFID tags can be used in temperature-controlled shipments to record the temperature of the goods at regular intervals. Because of their embedded technology and the packaging required to manufacture them, these RFID tags are more expensive than passive RFID tags.
The active RFID tag contains a battery. The information can be read over a long distance (150 metres for some tags). These RFID tags are often used in vehicle access control applications, but also for automatic inventory in logistics warehouses.

RFID technology, applications
RFID technology makes it possible to work in real time with secure data. Today, RFID tags can be found in various sector of activity: automotive, aeronautics, logistics, pharmaceuticals and medical, food and drink, wholesale and retail, luxury goods and sport.
The fields of application are numerous: identification, traceability, geolocation, automation, security, anti-counterfeiting, inventory, stock management, timekeeping, access control.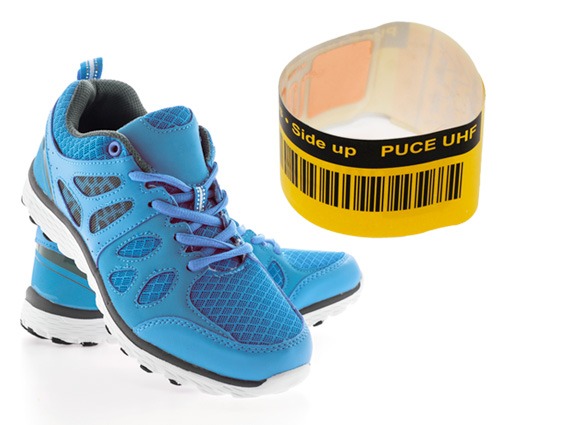 Would you like more information about RFID technology? Do you have a RFID label project to develop?
Our team of engineers and technical sales representatives are on hand to guide you through every stage of your project!